CARTA is criticality safety training software developed here at Cerberus Nuclear. Uniquely, CARTA displays a realistic value of k-effective as the user interacts with the simulation, either in a conventional first-person desktop format or Virtual Reality (VR) environment. The user can see, in real-time, the effect that their actions have on criticality safety. The CARTA methodology requires a multi-disciplinary approach, combining criticality safety calculations, machine learning and a gaming environment.
We have recently completed the software development for two training scenarios. This programme of work has been funded by the UK's Alpha Resilience and Capability (ARC) programme.
The project has involved engagement with representatives from many of the ARC member organisations. This has given relevant stakeholders the opportunity to influence the functionality and appearance of CARTA as a training tool, prior to integration into training programmes within their own organisations. Two training simulations have been created:
The 'MAGIC MERV' simulation – Users can interact with two spheres of fissile material in a laboratory environment. The simulation is able to demonstrate the behaviour of all of the factors that affect criticality, i.e.

Mass
Absorption
Geometry
Interaction
Concentration
Moderation
Enrichment
Reflection
Volume
This simulation is intended to be conceptual rather than realistic. It allows the maximum range of effects to be demonstrated, making it useful for training operators and assessors and also for wider stakeholder engagement.
The glove box process simulation – Users interact with a realistic glove box featuring a mass balance, assay chamber and array of stored cans containing fissile material. They are presented with an imported can and are able to weigh and assay the can in order to determine if it is 'safe' before storing it or rejecting it. The simulation allows trainees to be challenged with various configurations to enhance their understanding of criticality rules, potential fault scenarios and some of the challenges with fissile material assay.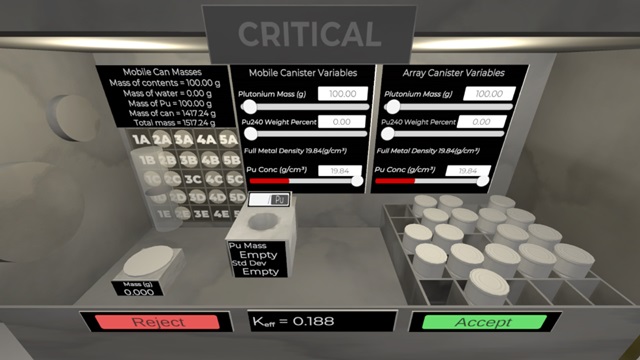 Images of CARTA development. From concept through to the final product.
We are now looking at options for implementation at each of the various ARC member organisations including Sellafield Limited, AWE, NNL, Nuclear Waste Services, ONR and DSRL. If you work for any of these organisations and would like access to CARTA, then please get in touch (nuclear@cerberusnuclear.com).
We are now actively seeking organisations that would benefit from this particular software or bespoke criticality safety training scenarios using the CARTA methodology. If you would like to discuss your idea, please get in touch using nuclear@cerberusnuclear.com.