Cerberus Nuclear has recently provided support to the University of Birmingham's nuclear post-graduate masters courses. Geoff Hall and Katrina Christaki presented a lecture to students of the PTNR (Physics and Technology of Nuclear Reactors) and NDWM (Nuclear Decommissioning and Waste Management) courses as part of an ongoing industry lecture series.
They gave an introduction to radiation shielding and criticality safety assessment in industry which was supported by case studies on the innovative projects that have been carried out by the Cerberus team over the past 12 months.
In particular, dynamic source movement assessment techniques were described and the benefits for use in radiation transport assessment were of focus, as well as a worked example of a dynamic waste package loading and transfer process within a facility with changing dose rate contours displayed live as package movements take place.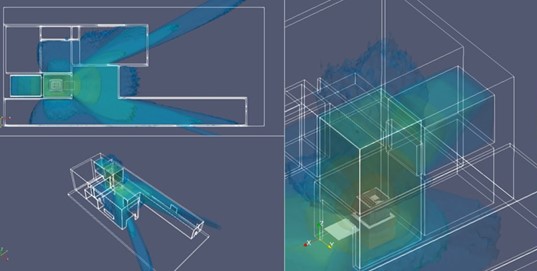 Worked Example of Dynamic Box Loading and Transfer
Cerberus's criticality training aid, CARTA, was also presented. CARTA is a brand new innovative tool that uses machine learning to calculate k-eff in real time for the purposes of operator training. CARTA is currently in development supported by NNL, AWE and Sellafield Ltd as part of the Alpha Resilience Capability. An early desktop version of CARTA was demonstrated to students providing an insight into the fundamental principles of criticality safety.

CARTA: Glovebox in VR, Tōkai-mura criticality simulation
The lecture was well received by the students and provided an excellent demonstration of the unique and innovative work that individuals joining the team can look forward to getting involved with.
Cerberus supports summer placements from the NTEC (Nuclear Technology Education Consortium) postgraduate-level masters degree course, and we look forward to doing the same for the University of Birmingham later this year.